If you're interested in becoming a land surveyor but don't have a degree, don't worry. There are plenty of ways to get started, and it's not difficult to find employment in the field. In fact, recent graduates are 100% hired in the field. In addition, this profession offers a great deal of freedom. Many land surveyors love working in diverse locations, working on a variety of projects, and collaborating with other professions. In addition to the diverse nature of the work, land surveyors are able to apply advanced technology to their work.
Four years of working under a licensed surveyor is a common requirement before becoming eligible to take the licensure exam to work as a surveyor. The educational experience that is required before you can even sit for the licensing exam is designed as an educational experience for those without formal training in land surveying or related field. But what happens if you don't have a degree?

Bachelor's degree
A Bachelor's degree is usually required to become a land surveyor. In some states, licensure is required to practice in this field. A land surveying license helps individuals perform the job correctly and accurately. It also allows surveyors to certify legal documents. Getting certified will help expand your skills and knowledge base and impress prospective employers. Certification usually involves taking a course and passing an exam. Certification will also increase your marketability as a land surveyor.
After graduating from college, a land surveyor should obtain a state license. The requirements vary from state to state, but they are generally similar. These include passing a series of exams and gaining supervised field experience. In West Virginia, for example, students must complete thirty hours of course work in land surveying, as well as four years of field experience.
Most states require a Bachelor's degree in surveying, though an associate's degree in mathematics may also be accepted. It is also important to note that most states require that students complete an ABET- accredited program. A land surveyor's education will typically include courses in mathematics, geography, and cartography. Those who complete the course work will then be eligible to take the Fundamentals of Surveying exam, which is administered by the National Council of Examiners in Engineering and Surveying.
Experience requirements
There are several experience requirements to become a land surveyor. These include knowledge of all surveying equipment, accurate measurement of land, structures, and water, and preparation of final survey reports. All of these duties should be in accordance with legal regulations. In addition to education, applicants must have work experience that demonstrates their technical and management skills.
In order to become a land surveyor in Florida, applicants must have completed a four-year accredited degree or an associate's degree in a field related to surveying. To be eligible, the education must include at least 30 credits of land surveying-related coursework. Additionally, applicants must have acquired at least six years of experience in the field.
An internship is an important step to becoming a land surveyor. While interning,
individuals can gain hands-on experience working with a professional land surveyor by participating in fieldwork, compiling data, and preparing final products. In addition, they must pass an exam administered by the National Council of Examiners for Engineering and Surveying (NCEES). Experience requirements to become a land surveyor vary depending on the educational track and the requirements of each state. Typically, graduates with a Bachelor's degree can take the first licensing exam, but at least two years of hands -on experience must be under the supervision of a licensed land surveyor.
Exams required
There are several different types of exams that land surveyors must pass in order to become licensed. The first one is the Fundamentals of Survey examination. It is administered twice a year in April and October. This exam is a national standard and must be passed to receive a certificate of qualification in land surveying. After passing the Fundamentals of Survey exam, candidates must take the Principles and Practice of Surveying exam. State licensing exams must also be passed before an individual can start their career as a land surveyor.
Land surveying is a career field that deals with the retracement of land boundaries. Those who pursue a career in this field often find rewarding careers working with GIS, GPS, and photogrammetry. It is also a good career choice for those interested in remote sensing, GIS, and related forms of earth mapping.
To become a land surveyor, you must have a Bachelor's degree or equivalent, usually in a survey-related field. Most states require four -year degrees, though some may accept applicants with three-year degrees and a considerable amount of relevant work experience. If you've finished an accredited program, you'll be able to sit for the Fundamentals of Surveying examination. This exam is offered by the National Council of Examiners in Engineering and Surveying (NCEES).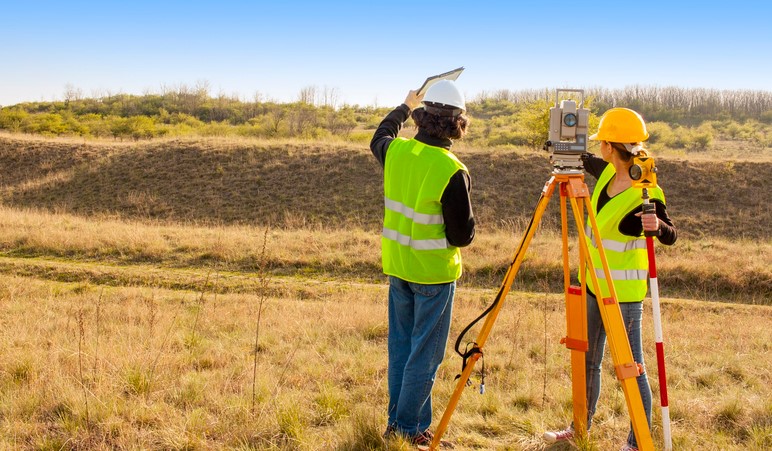 License requirements
A land surveyor's license must be obtained before he or she can begin practicing the profession. There are several requirements, however, before an applicant can take the exam. For example, he or she must have at least 15 semester hours of surveying instruction. In addition, they must have a minimum of two years of relevant work experience.
Applicants must submit a Notification of Intent to Practice Land Surveying under Section 7208 of the Education Law. They must provide three professional references confirming their competency and integrity. The descriptions of their experience must be accurate and specific. They should state the specific duties they performed and the degree of responsibility they held.
To become a land surveyor, applicants must first complete their undergraduate education. Many universities offer courses that involve internships with licensed surveyors. This is an excellent way to get practical experience in the field while earning your degree. Some of these internships will lead to full -time employment once you graduate. Furthermore, many states require that prospective surveyors complete a certain amount of time in an accredited internship before they can sit for the Professional Surveyor's Exam.
While a land surveying degree is not necessary to become a licensed surveyor, the legal requirements for licensure in many states may require you to have completed a certain amount of education or obtained a certain level of experience.